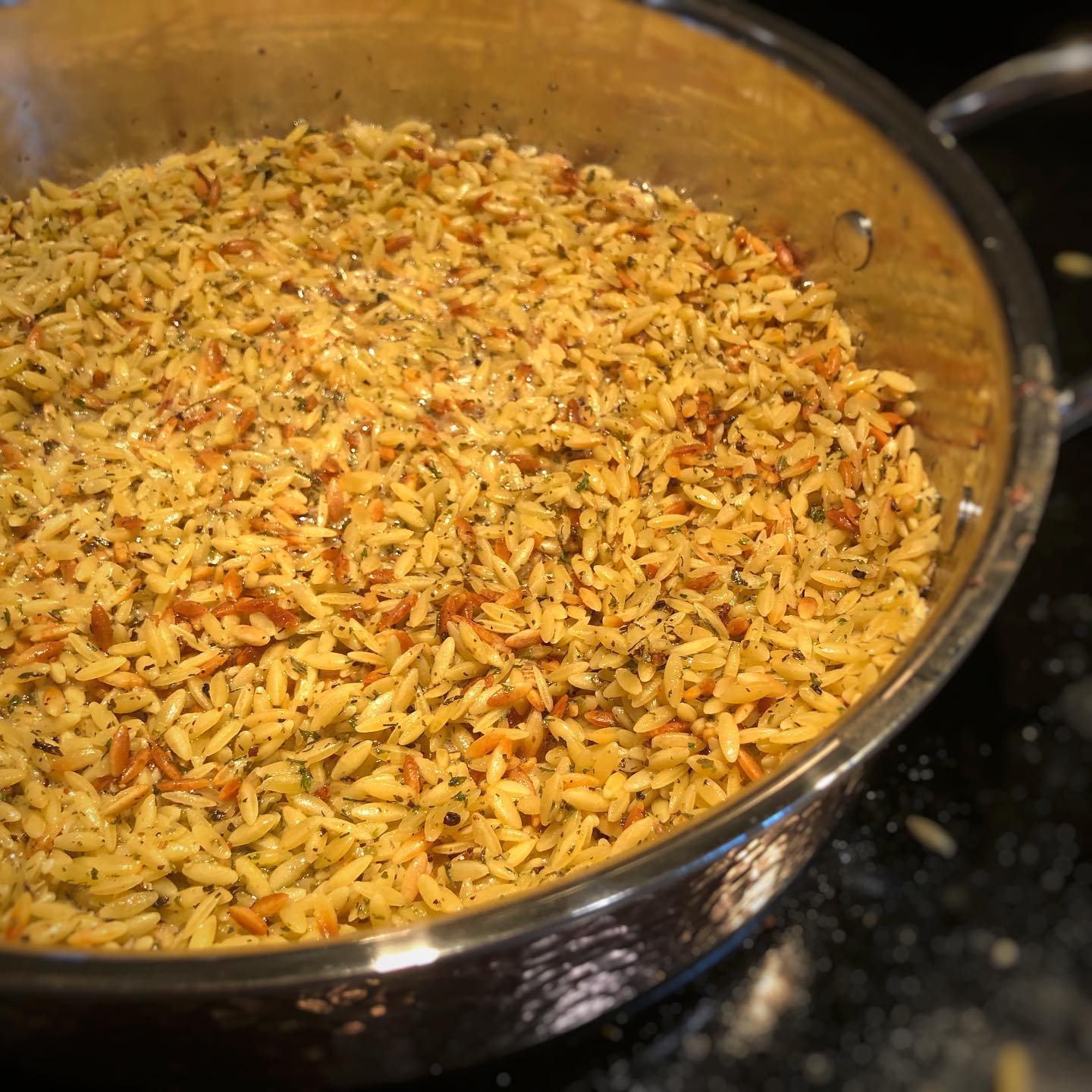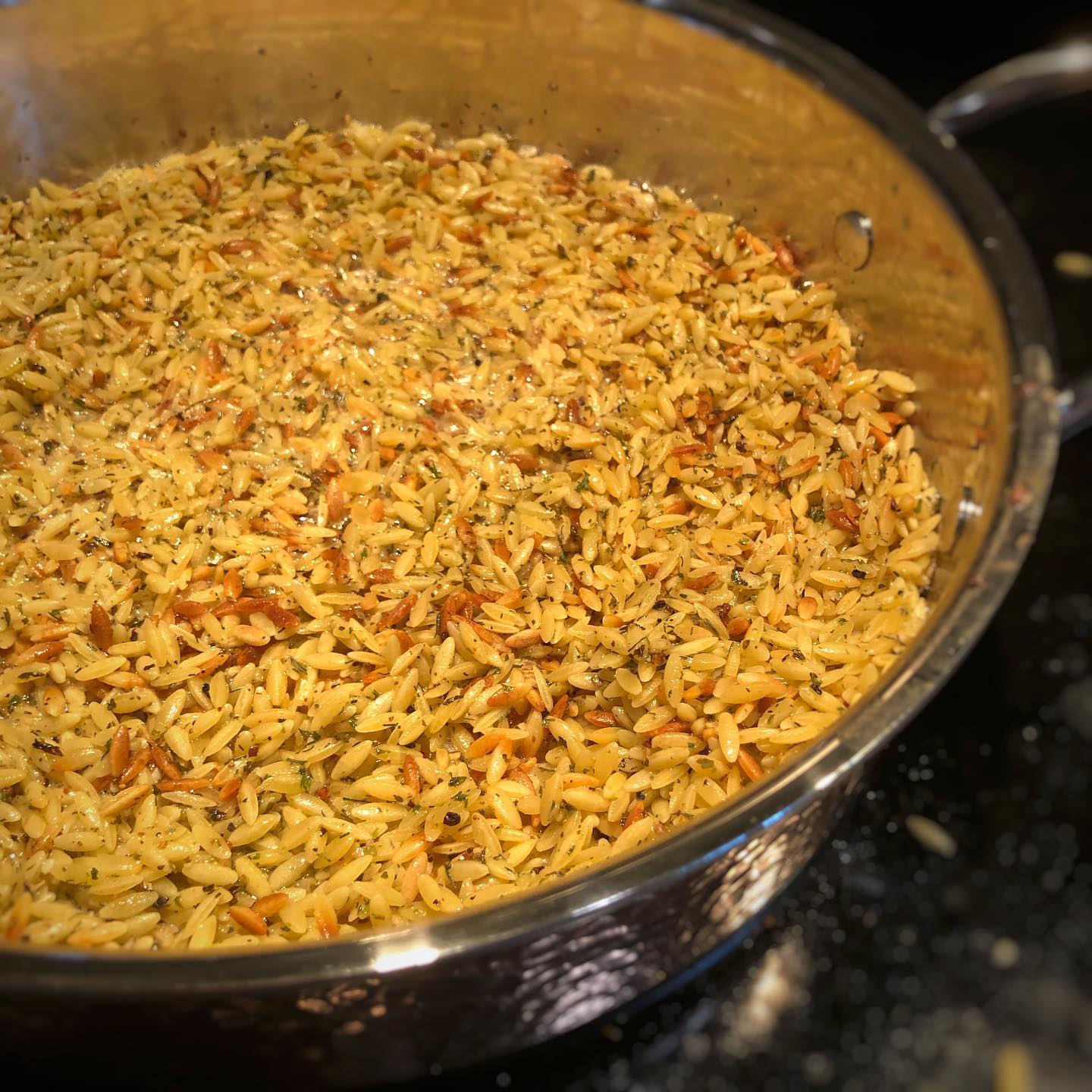 Browned Orzo Greek Salad
1 - 2 tbsp of Magic Meat Dust's Greek Blend (to taste)

2 tbsp of salted butter

1 cup of Orzo

2 cups of broth (turkey or chicken work best)

Feta

Red Wine Vinegar (to taste)

Olive Oil

Lemon Juice (to taste)

Olives

Basil

Cucumber

Tomatoes

Bell Pepper

Red Onion

Garlic
Melt butter in pan with garlic at medium heat. Add orzo, seasonings, and mix until orzo is coated in butter. Allow to simmer for a few minutes until Orzo reaches golden brown colour.

Add broth, and bring to a rolling boil. Cover, and let simmer for approximately 15 minutes (or until orzo has soaked up the broth)

Mix in olive oil, red wine vinegar, lemon juice, and feta. refrigerate for approximately half an hour.

Mix in diced tomatoes, cucumber, olives, red onion, and basil.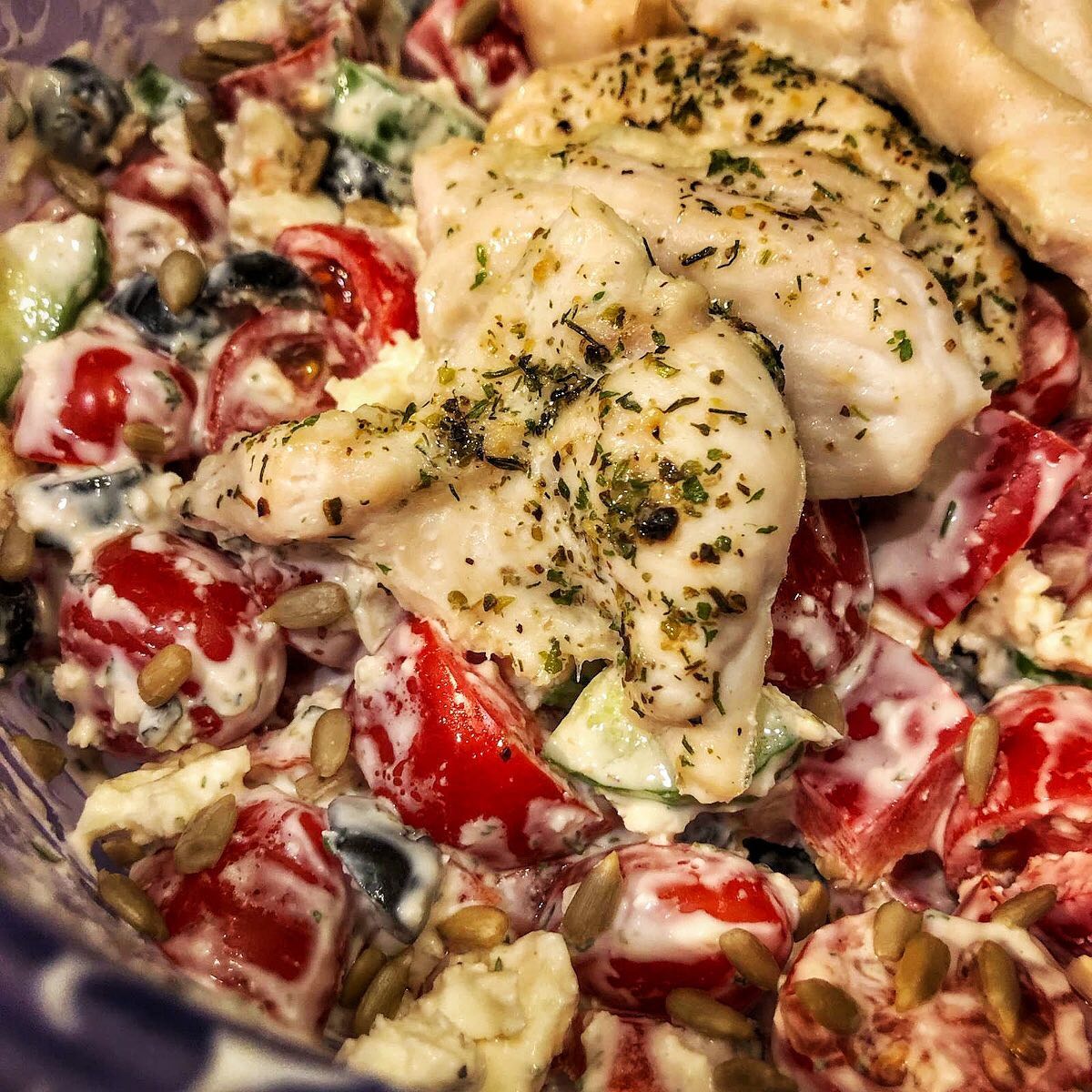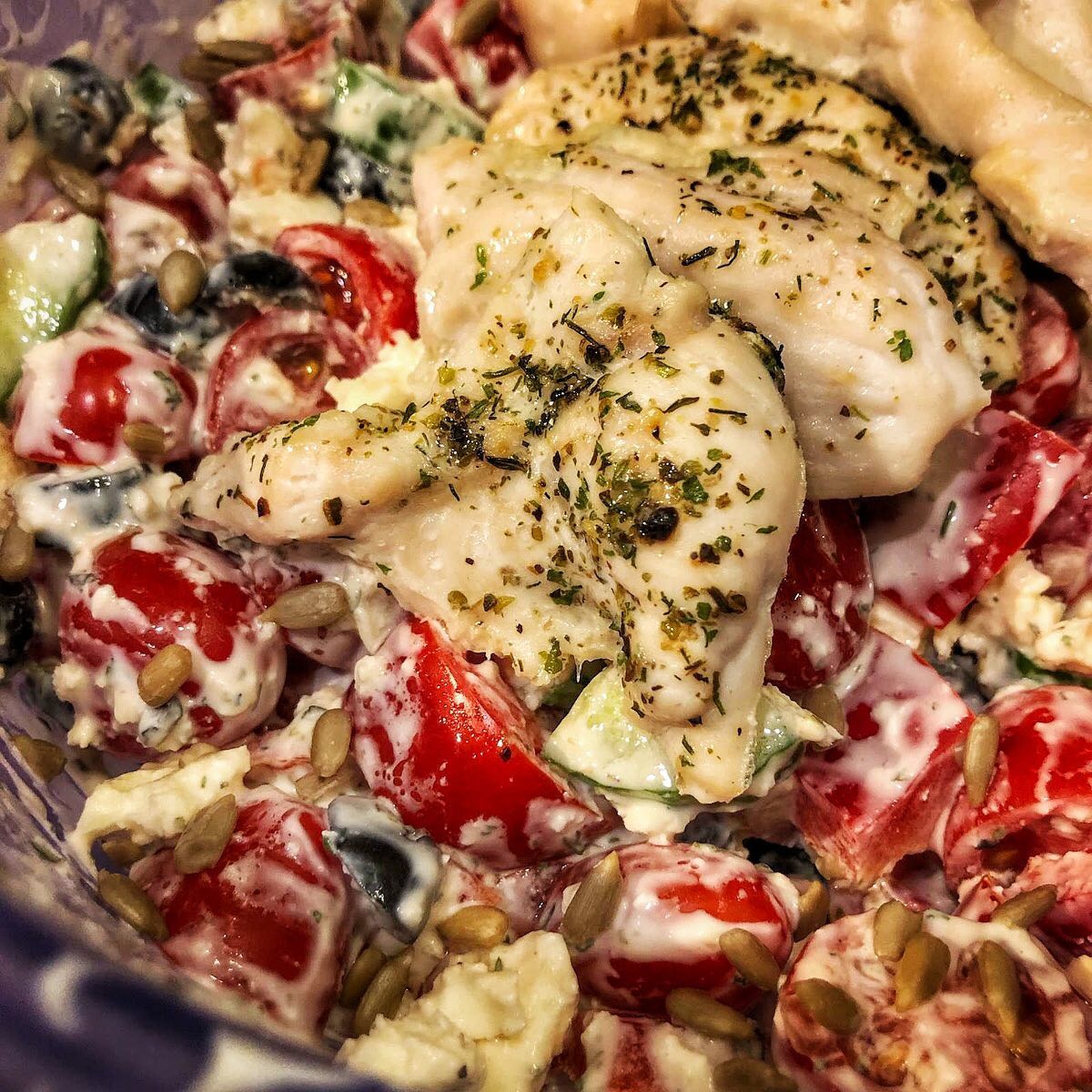 Creamy Greek Salad Dressing
2 tbsps Magic Meat Dust's Greek Seasoning
1/2 cup of Greek Yogurt
1/4 cup mayonnaise
Lemon Juice (to taste)
Mix Ingredients and refrigerate for approximately 20 minutes or until dressing has absorbed Magic Meat Dust's Greek flavouring.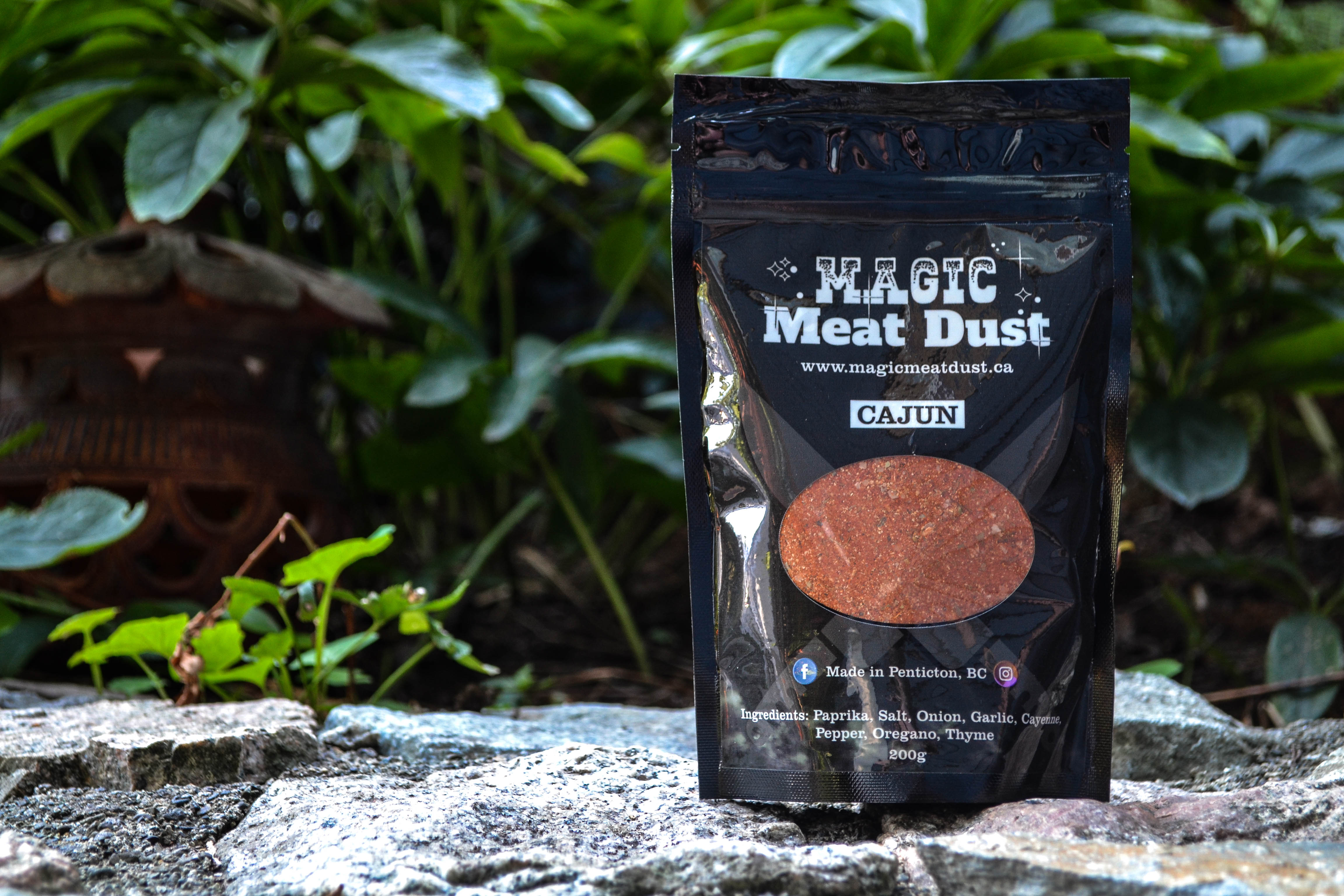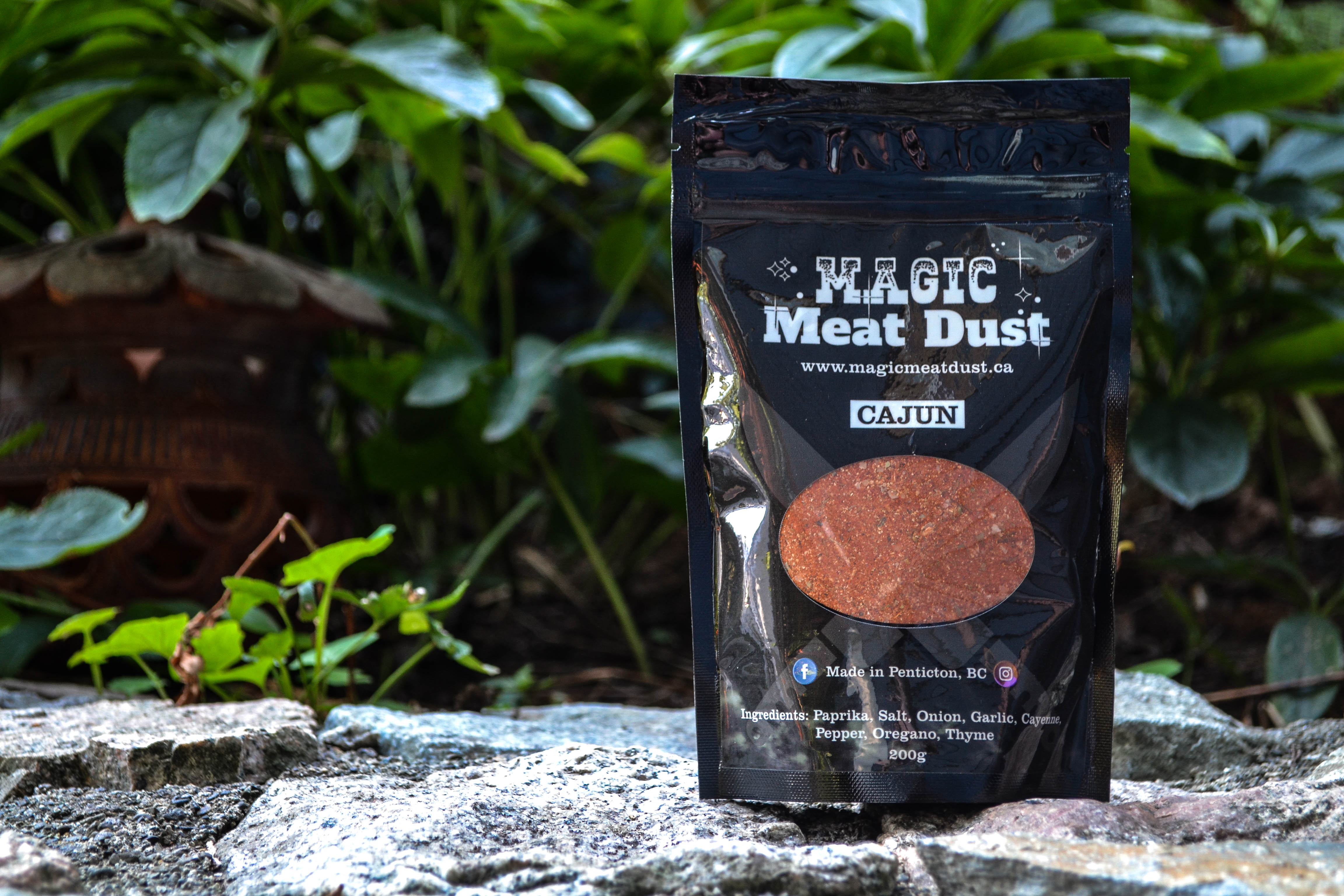 Southwestern Salad Dressing
Magic Meat Dust's Cajun Blend
Mayonnaise
Lime Juice
Lemon Juice
Olive Oil
Mix ingredients to taste, and refrigerate for approximately 20 minutes or until the dressing has absorbed the Cajun blend's flavour.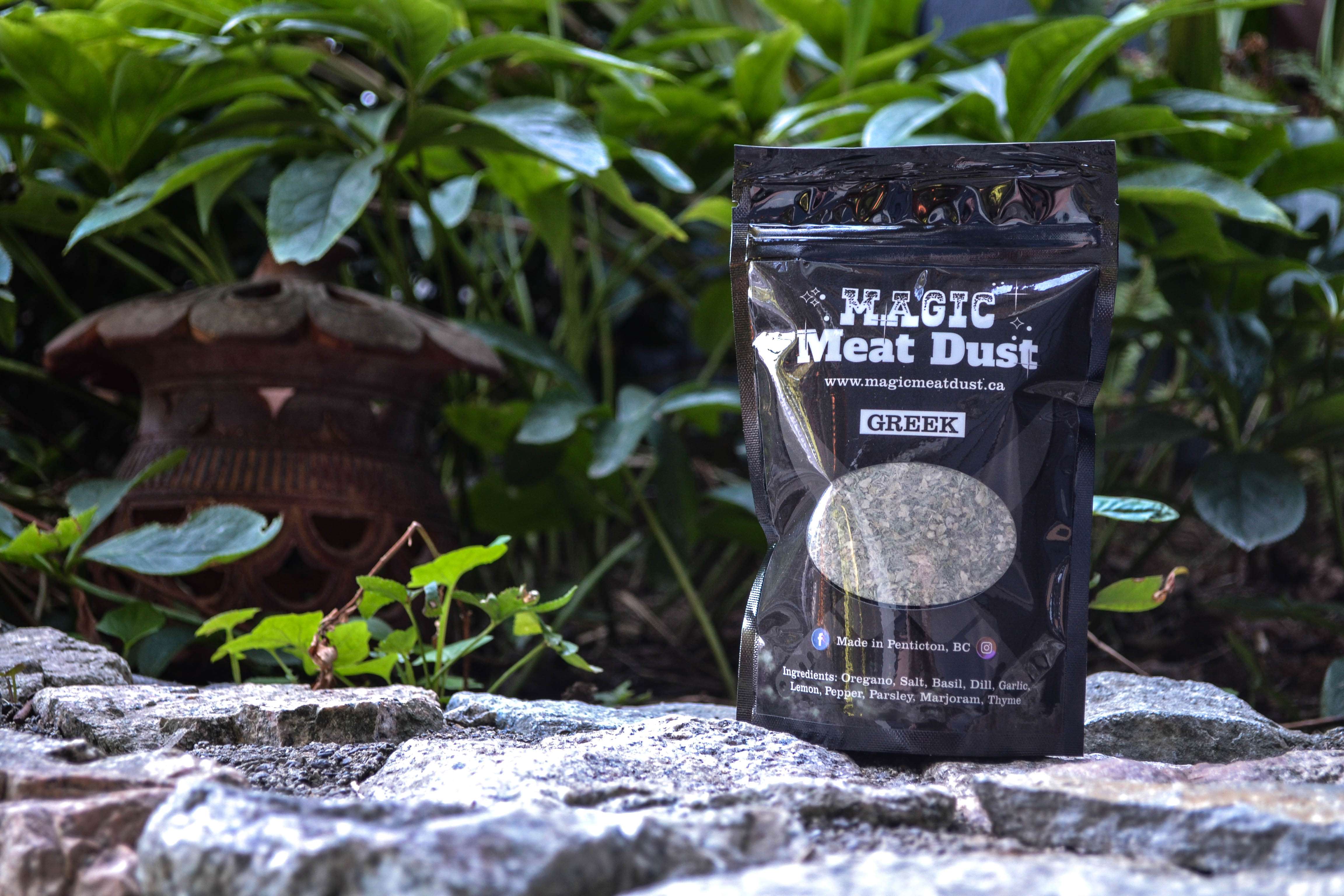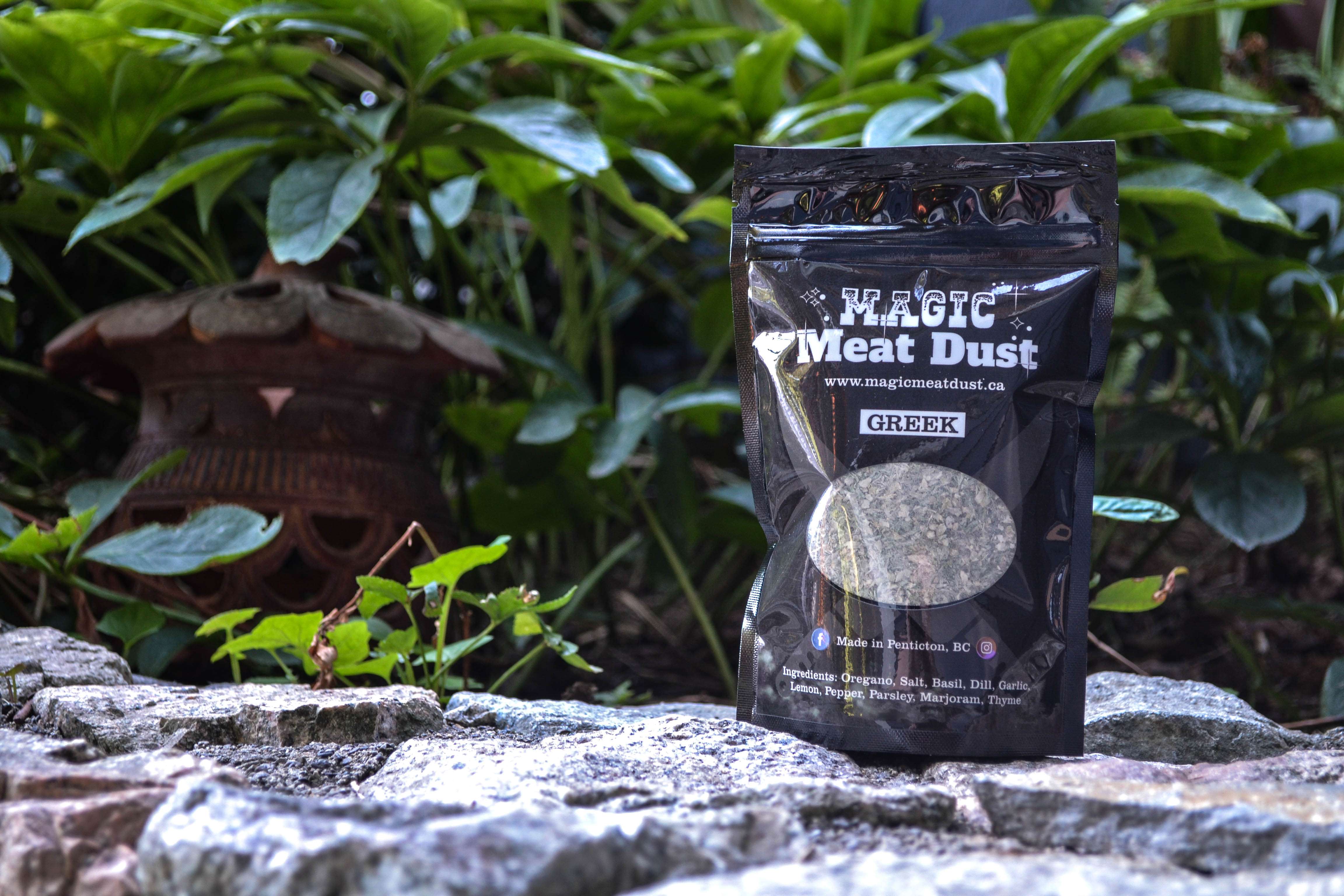 Magic Meatloaf
2 lbs Ground Chuck
2 Eggs
2 tbsp Garlic
1 cup Bread Crumbs
1 tbsp of SmakDab White Wine Herb Mustard (or any Dijon mustard)
1 medium onion chopped
1 tbsp Worcestershire Sauce
1 tbsp of Tomato Sauce (or ketchup will work as a substitute)
1 tsp of Magic Meat Dust Signature Blend (or to taste)
1 tbsp of Magic Meat Dust Greek Blend (or to taste)
¼ cup of Sundried Tomatoes (or to taste)
Preheat to 400°F
Combine Meatloaf ingredients
Divide Meatloaf into two loaf pans (or 1 large one)
Bake for 45 mins to 1 hour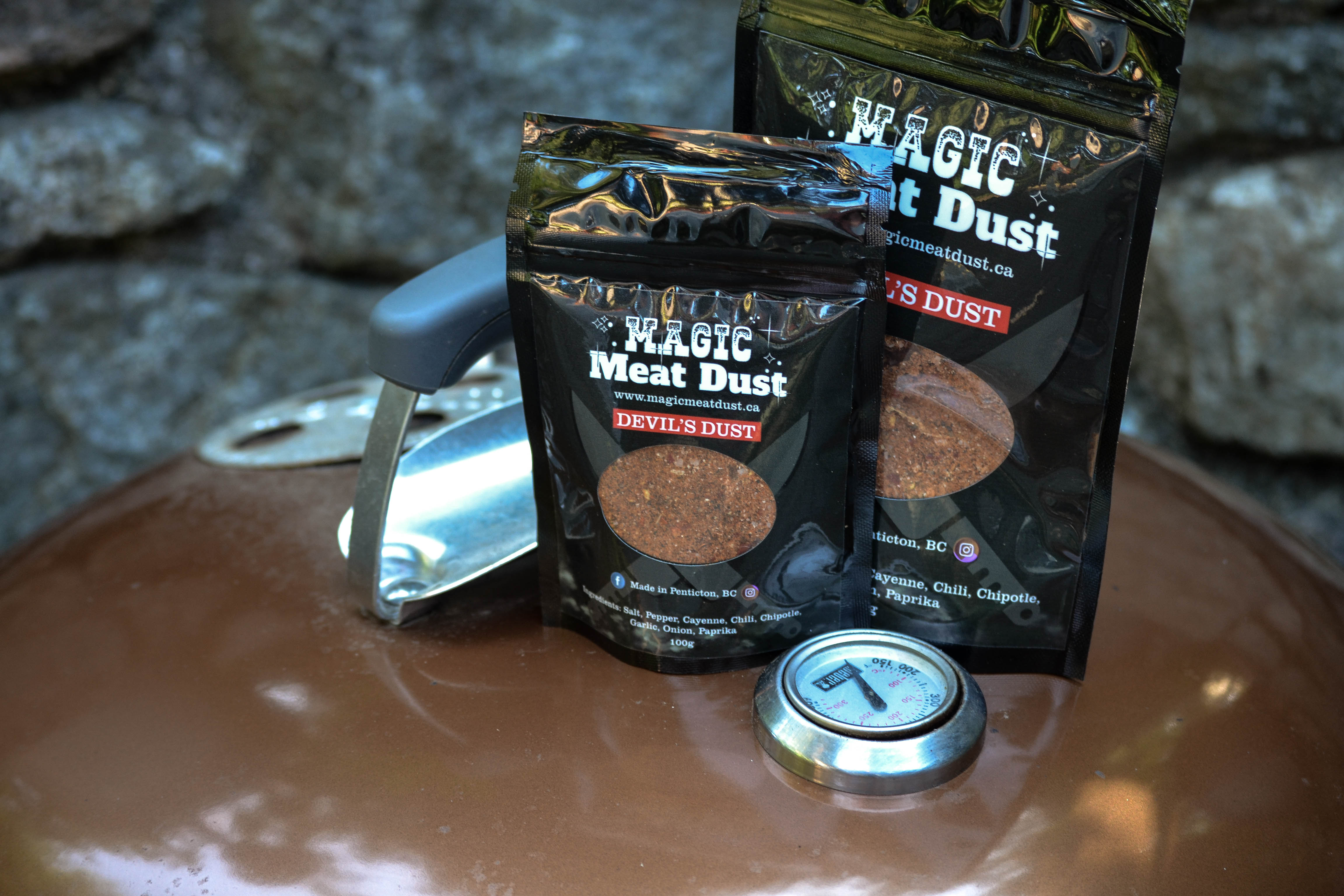 Magic Meat Dust Dip
1 brick of Cream Cheese
1/2 cup Greek Yogurt
2 tbsps of your favourite blend (Signature, Cajun, or Hellfire recommended)
Whip both cream cheese and greek yogurt together
Add your favourite Magic Meat Dust spice
Let refrigerate for an hour
Serve with Veggies, or chips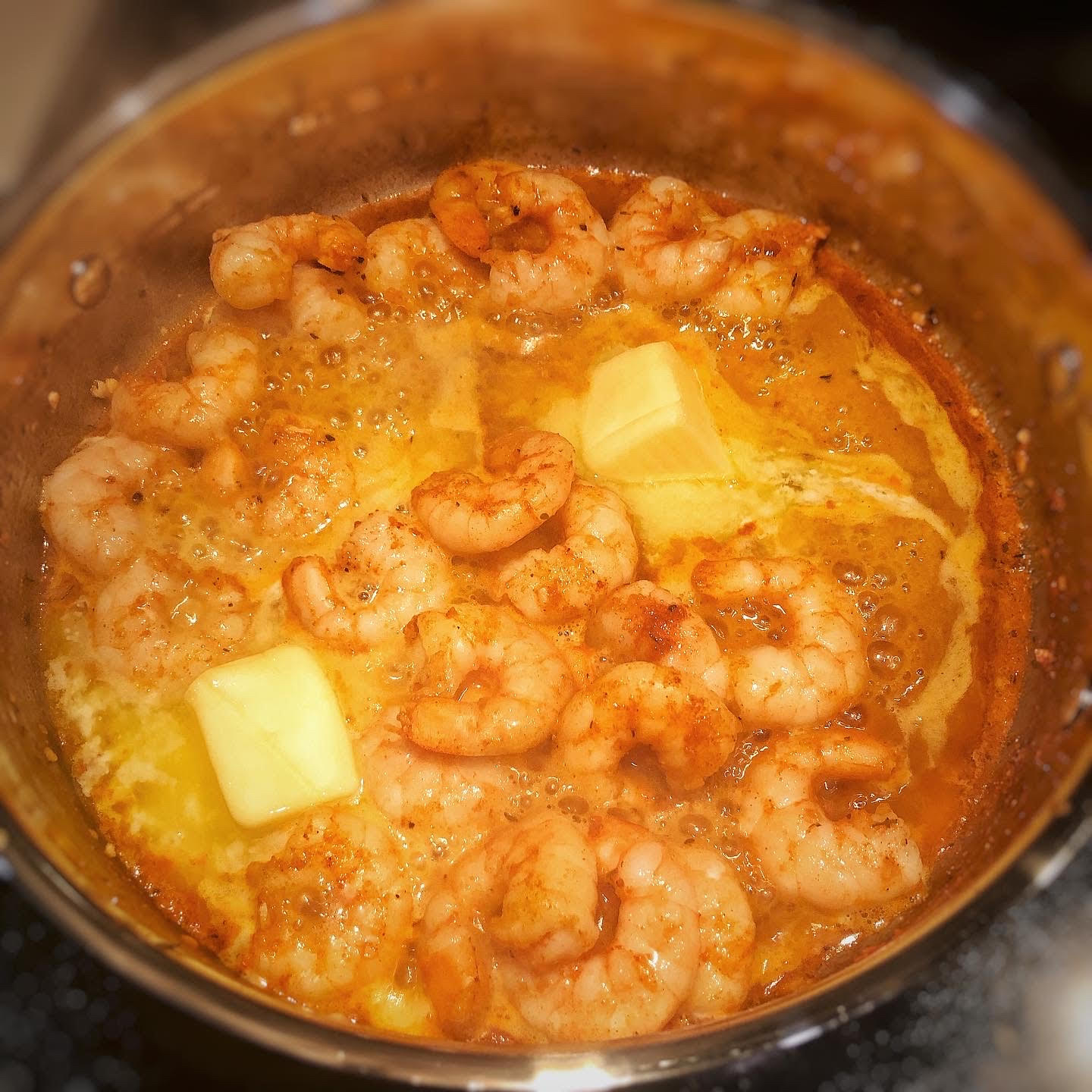 Date Night Cajun Shrimp Linguini
½ cup of Magic Meat Dust's Cajun blend
1 lbs of shrimp
1 cup of Heavy Cream
½ Dry White Wine
½ Stick of Butter
2 tbsp of Upper Bench Pepper Puck and Parmesan
Olive Oil
Toss shrimp in Cajun blend
Heat up Olive oil in a large skillet
Cook shrimp until pink, then remove, and set aside
Melt butter in the skillet. Stir into residue at bottom of pan.
Add heavy cream at medium heat stirring into the butter
Grate approximately 2tbsps of Upper Bench Pepper Puck and Parmesan (you truly measure that with your heart.)
Stir in dry white wine
Add in cooked linguini and stir in sauce
Add shrimp back in
Serve and pair with white wine
Magic Meat Dust Signature Burgers
2 tbsps Magic Meat Signature (But don't let us tell you what to do)
1 lbs regular ground beef (you need the fat to hold it together)
Add signature to the regular ground bee fand mix thoroughly by hand
Roll into egg sized balls then flatten into thin patties onto wax paper
Cover and place in fridge overnight or at least 6 hours
Preheat your grill on high
Placec patties on grill and reduce heat to medium high until fully cooked
Add cheese... unless you are a burger hating lactose intolerant person then enjoy your plate of sadness
For an extra bit of crazy take a thin patty, place a small pile of shredded cheese on the patty and sprinkle with Magic Meat Dust Taco then place another patty over top and seal the edges and voila stuffed patties. Also try replacing signature with Hellfire or any of your favorite Magic Meat Dust Blends… go ahead and use them all… we won't judge. Send us your pictures.
Hellfire Honey Wings
1 tbsp Magic Meat Dust's Hellfire (or more if you are dead inside)
1/2 cup of Honey
1/4 cup of butter
1 lbs of meaty chicken wings
Fully thaw wings
Melt butter in a saucepan and add honey
Stir until combined then add the spice
Set Aside
Grill or smoke wings on medium low heat until fully cooked
Toss wings in honey sauce
Place back ong rill until honey carmelizes.. DO NOT BURN.